It's been a long week. I don't know if it's because of the full moon or spring like weather here, but school has been a bit, shall we say, exhausting. Patience has been the keyword.
Here's a cute and easy little favor I did for each of the boys' classmates last year. It uses Stampin' Up's Full Heart Punch and a coordinating heart border stamp from the set Sweetheart.
The boys stamped "Happy Valentine's Day" on the back and signed their names on each one. Turquoise/pink for the girls and red for the boys. The ribbon is threaded through a hole punched just at the bottom tip of the heart and tied around the lollipop to secure it. Real easy and simple.
This weekend I'll get started on the ones they'll share this year.
My oldest selected this one:

via Pinterest
And for my Lego, Star Wars loving younger son, he went with this idea: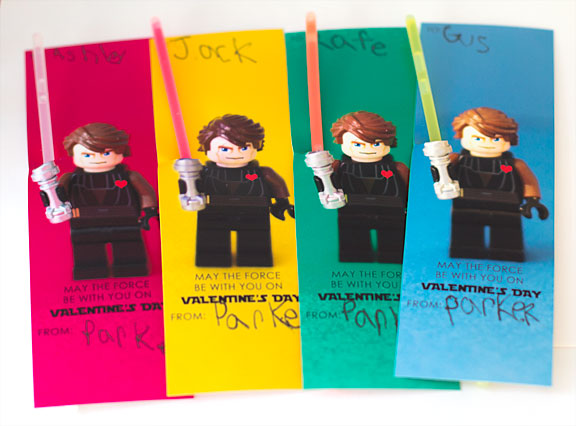 via Pinterest
We'll be doing this Lego themed one in white and adhering it to red cardstock for a little color. Then thread a glow stick right where the lightsaber should be.
Both should be easy and fun for them to get done on their own with a little help from Mom. Just need to be sure I've got plenty of ink in the printer to get it done!
So glad it's Friday and am ready to enjoy the weekend the my little family. My boys each have basketball games to play in and I hope to get some play time in of my own with some stamping and cross-stitch.
Have a great Friday!